I was recently given the opportunity to review The Chapel Chronicles Volume One by Emma T. Capps and to say I was amazed would be an understatement!!
This magazine style book, is a 44 page, four panel, colour strip which follows the adventures of Chapel Smith, who is an 11 year old with a…
"…big red ponytail, granny glasses, and freakishly large feet.  I always wear a little black dress.  I love having wacky adventures and dressing up in outlandish hats…"
It follows her adventures as she navigates tween life with her own quirky brand of humor. Whether it's clashes with her babysitter, struggles with household chores, finding a love of pop music, or an unexpected prickly companion, each comic delivers something delightfully unexpected. Chapel's spunky and sweet wit make her a character appealing to fans at any stage of life.
Chapel's voice is also an authentic inside perspective of tween life because, oh didn't I mention this, the author is 15 years old and she began the Chapel Chronicles as an 8th grade project!!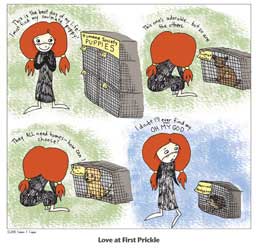 Emma T Capps is an award-winning artist, author, and cartoonist.  She has had 25 works of art and writing published in national magazines.  She won a Gold medal in the 2011 Scholastic Art and writing Awards for her comic book Jam Days, in addition to a merit award from california for her poetry collection Postcard Dreams.   She recently graduated from 8th grade and is fluent in both English and Spanish.
Wow…I feel like such an under achiever :-)
READ IT - You can read Chapel comics at www.chapelchronicles.com  or at www.facebook.com/chapelchronicles.
BUY IT - Chapel Collectibles, including the comic book, greeting cards, charms, earrings, prints, and more are available for sale at the  Chapel Chronicles Store
WIN IT - One reader of Older Mommy Still Yummy is going to win, The Chapel Chronicles Collectibles Giveaway. This giveaway is designed by Emma and includes,  a copy of The Chapel Chronicles, Volume One, a 44 page all-ages comic book (hand-drawn and in colour) consisting of the first 31 four-panel comic strips in the webcomic series titled The Chapel Chronicles, 10 Thank you postcards, 10 Happy Birthday postcards, and 10 Bon Voyage postcards. Value: $50
TO ENTER - Using the Rafflecopter form below, simply follow the instructions, complete the mandatory entry, (which unlocks the optional entries),  plus any or all of the optional entries for your chance to win this amazing prize!  Good luck! {Rafflecopter sometimes takes a few moments to load.}
{I received one or more of the products mentioned above for free using Mom Blog Society Regardless, I only recommend products or services I use personally and believe will be good for my readers.}