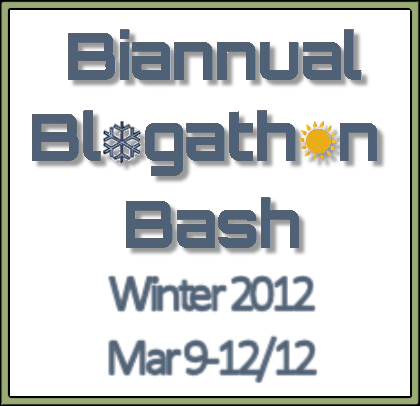 Even though looking out my windows I see snow and it looks very wintery, I've decided to start my Spring cleaning.  The very first thing I'm going to dust, sort and clean is my blog.
I am a Type "A" personality and a self confessed neat freak.  Even though I've been blogging for only a year, my blog house is starting to become messy and in need of a good scrubbing.
I've been doing little bits of cleaning and straightening here and there…but, what it really needs is a top to bottom, ceiling dusting, wall washing, floor scrubbing…polishing.
But, who has the time for that?  We all have busy lives and I don't know about you, but when I do sit down with my computer I want to do fun things, not blogkeeping chores!
So, when I came across a week-end Blogathon, I thought…this is exactly the motivation I need to get my blog house in order.  I'll take advantage of the cold, yucky weather, the better part of  a week-end, and try to catch up on all those blogkeeping chores that I've been putting on the back burner for months.
You don't have to clean, you can write, decorate, re-arrange, move, whatever you feel needs some time and effort.  So, if you think you may want to spend a cozy week-end of quality time,  just you and your blog, you can sign up here.
If you would like more information just visit the Biannual Blogathon Bash.
I've signed up and have committed myself to participating, which immediately turned on the type A neat freak monster, so look out blogosphere, here I come!  Oh, did I mention, I'm also fairly competitive?  On your mark… get set…BLOGATHON!!